CRUIZN Route 66 in my 1961 at the Speed of Fun!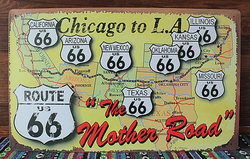 My son Jim joins me on this 2015 CRUIZ adventure on Route 66 in my 1961 Impala Sport Coupe. But, because Jim has limited vacation days we are going to pick up Route 66 outside St. Louis in Illinois where, the last time I was there in 1963, the Gateway Arch was being constructed. I apologize in advance for the Chevy showing up in most of all the Route 66 site photos as this old girl was proof that we were there. In many popular Route 66 spots the Chevy was a popular photo op for the other Route 66 Tourians as the site and as an added bonus introduced us to people from all over the world.

---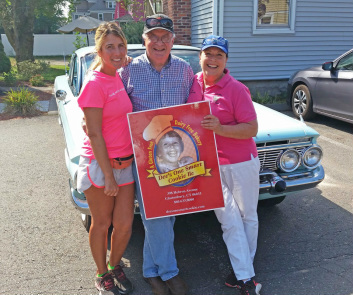 Wednesday September 9 we connected with Aprylle Gilbert (L) who is running East Coast To Coast for Kids from Long Beach, CA to Provincetown, MA on U.S. Route 6 at Dee's One Smart Cookie (R) in Glastonbury, CT where she could carbo-load with gluten free bakery products.
---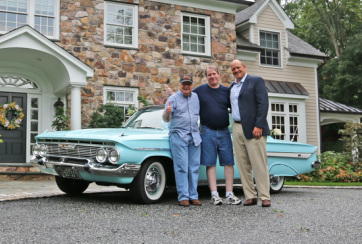 Thursday September 10 after stopping overnight in Wyckoff, NJ for dinner and an overnight stay with our nephew/cousin Dave & wife Sue and their kids, Max, Caitlin & Jake. It started raining heavily as we drove through the Delaware Gap on I-80 and then, the a/c & headlights went out. We pulled off I-80 in East Stroudsburg, PA and luckily M1 Automotive. Owner was at the end of the ramp Tommy Martocci diagnosed the problem as a dead cell in the battery which looked new but did not have the date code perforations. A new battery and a test for the alternator voltage output and we were back on the road shortly after lunch. Then about 4 pm the car sputtered to a stop at mile marker 206 on I-80. A 911 call to the State Police, a ramp truck from Taylor's Garage in Milton, PA and we were overnighting in the Quality Inn overnight to watch the Patriots beat the Steelers 28-21.
---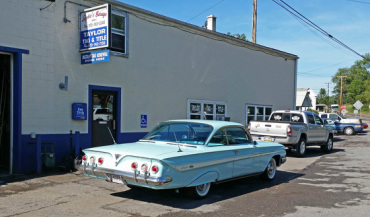 A September 11 Friday morning call to Taylor's Garage foreman Lucas confirmed that pretty chromed alternator that I wanted to replace the old generator had died. They ordered a more reliable Monte Carlo alternator promising to have the '61 ready to go by 10:30 AM and they delivered as promised. After a quick taxi tour of Milton, home to Chef Boyardee and it's quaint 1900's era architecture, we drove I-80 out to Youngstown, OH then drove OH 11 & 7 along the Ohio River to Steubenville, then west on the scenic U.S. Route 2 to Zanesville, OH where we stayed at the Comfort Inn. 382 miles; it was a great day.
---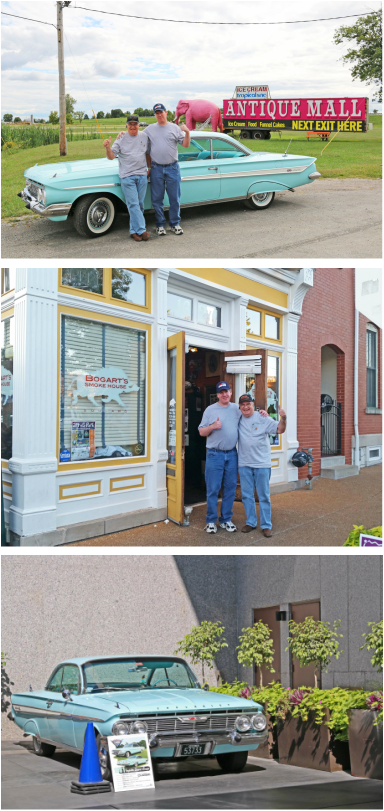 Our Saturday September 12 plan was to hit our first Route 66 destination, the Pink Elephant Antique Mall in Stanton, IL then do an overnight in downtown St. Louis at the Hyatt Regency @ Gateway Arch with ribs at one of the top rib houses, Bogart's Smokehouse. We woke up to rain in Ohio, drove I-70 through off and on heavy rain into and across Indiana with the weather finally breaking for us in Illinois. 500+ miles, great photo op in Stanton, IL and St. Louis, a preferred parking space in the front entry driveway of the Hyatt Regency because they were afraid to valet park the Chevy and a bigger room upgrade on the top, 18th floor overlooking the Gateway Arch, Mississippi and heart of the City, followed by great ribs & pulled pork at Bogart's. It was thumbs up all over and it doesn't get any better than this.




The St. Louis Hyatt's valet parking attendant didn't want to park the '61 in the indoor parking garage, so a $5 tip resulted in "Judy's Dream" enjoying 24 hour attention tucked safely away in a corner of the entrance driveway.
---
On Sunday September 13 we pulled off another extraordinary day of Route 66 adventures starting with the most elegant breakfast buffet at the Hyatt, followed by the tour to the top of the Gateway Arch at 9:30 AM. Then it was pack the bags in the Chevy and drive over to the Anheuser-Busch Brewery tour at lunch, followed by frozen custard at Ted Drewes Frozen Custard on Route 66; my verdict, better than ice cream or gelato. We met a couple from Worcester at Ted Drewes driving west on Route 66 who told us about an annual Chevy car show in St. Louis at the Museum of Transportation 8 miles west off the route so we squeezed that in as well for an hour before ending the day with a tour of the Meramec Caverns in Stanton then bedding down at the Sullivan, MO Comfort Inn.
---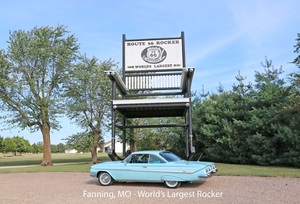 Monday September 14 saw us on the road at 9am hoping to make it to Oklahoma. We tried to stay on the historic Route 6 which was pretty well marked in MO, KS & OK; and, with the aid of our EZ66 Guide, only missed a few confusing I-40 crossovers which ran parallel for most of the drive. Stops were made in Missouri at iconic landmarks that included the Wagon Wheel Motel in Cuba, the world's largest rocking chair at the Route 66 Trading Post in Fanning and the Boots Motor Court in Carthage. In Galena, Kansas the Mining Museum and Miami, Oklahoma the historic Coleman Theater were among the many photo ops taken. We did 363 miles today and realize that the pace has to pick up a bit if we want to fit everything in. We landed in Claremore, Oklahoma for the night to watch Monday night football.

---